CarFinance 247 still on the fast track
CarFinance 247 has made the Sunday Times Virgin AtlanticFast Track 100, ranking for the fourth consecutive year.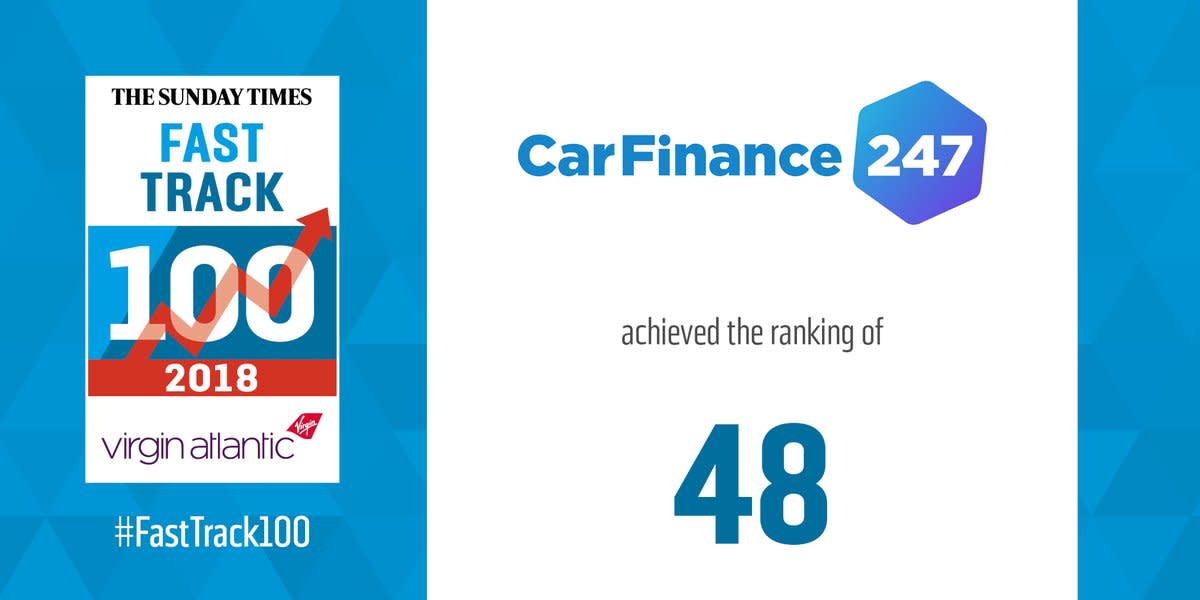 The 22nd annual Sunday Times Virgin Atlantic Fast Track 100 league table ranked Britain's private companies with the fastest-growing sales.
With more than £35m of loans completed every month, CarFinance 247 is setting the standard when it comes to accessing finance to buy a used car, providing its customers with better service, choice and value.
It does this by making car finance a straightforward and positive part of the car buying process, blending digital thinking with a personal service that provides each and every customer with a dedicated advisor.
Its award-winning website attracts more than six million visits annually and its customer-centric approach ensures that CarFinance 247 is the UK market leader when it comes to online vehicle finance. With a firm focus on removing the pain points that come with buying a used car, the company has even created an exclusive online member's portal where approved customers can browse more than 135,000 vehicles from trusted UK dealerships. This way they can buy a used car safe in the knowledge that the necessary checks have been put in place to make sure it's good to go.
Inclusion in the Sunday Times Virgin Atlantic Fast Track 100 list comes as the business celebrates its 12th year in business. In the last financial year, it grew by 21% year on year and the number of staff it employed also increased. CarFinance 247 has also just launched a dedicated charitable fund, the '247People Fund', which will help it to realise its purpose of helping to improve people's everyday lives.
Like CarFinance 247, over a quarter of the companies (28) on the Fast Track 100 list were founded or are run by families, including husband-and-wife teams, siblings or parents and children. At the helm of CarFinance 247 are brothers, Louis and Reg Rix who set the business up in 2006.
Says Louis Rix: "The fact that our business continues to grow at a rate of knots, is testament to the hard work of our 247People and our in-house built tech. We continuously strive to create the best customer experience possible and our digital-first approach, combined with the principles of good old-fashioned customer service, ensure that we are consistently setting new industry and service standards.
"To be recognised in the Sunday Times Virgin Atlantic Fast Track 100 List for the fourth year running is a great honour and we're already hard at work to make sure that we make next year's rankings."
Sir Richard Branson, the founder of Virgin Atlantic and Virgin Group, which has supported Fast Track 100 for all 22 years, commented: "Entrepreneurs are the lifeblood of UK business and have always been the beating heart of positive change. In a climate of uncertainty, it's more important than ever to recognise those entrepreneurs, like those of this year's Fast Track 100, who are making the world a better place for everybody."
Notes for editors
Fast Track has published league tables of the UK's top-performing private companies with The Sunday Times for the past 22 years. The company was founded and is run by Dr Hamish Stevenson, who also retains an associate fellowship at Green Templeton College, Oxford University.
League table criteria Companies had to be registered in the UK and be independent, unquoted and ultimate holding companies. Sales growth was measured by compound annual growth rate (CAGR) over the latest three financial years. A minimum of 25 weeks' trading in their base and latest years was required. For accounting periods not equal to a year, financials have been presented on a pro-rated, annualised basis. Annualised sales had to exceed £250,000 in the base year and not show a drop from the penultimate to the latest year, where total sales had to exceed £5m.
Firms had to have 10 or more employees and make operating profit of at least £500,000 in their latest available accounts. Recruitment firms are required to have gross profits of at least £5m in their latest available accounts. Sales for recruitment firms are the total gross amount invoiced to clients. Excluded companies include technology firms (covered by our sister league table, Tech Track 100), LLPs, pure property and financial trading companies, and companies with a turnover of £500m or greater.
The research was carried out by Fast Track between August and November 2018. Most of the companies were interviewed by telephone or visited by the Fast Track research team