CarFinance 247 triumphs at the Northern Tech Awards 2016
Manchester-based motor finance broker named the second fastest-growing Northern tech company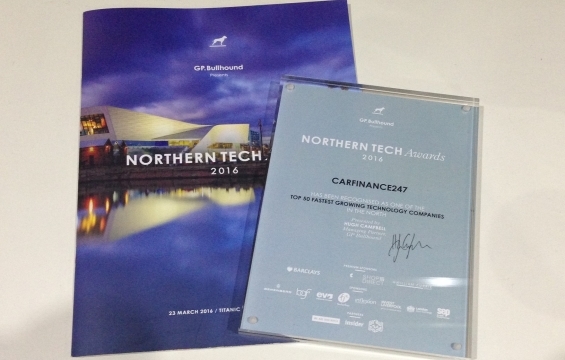 CarFinance 247 was honoured amongst the fastest growing technology companies in the North of England and Scotland at the Northern Tech Awards on Wednesday night.
Cementing its position as a leading powerhouse in the region's technology sector, the motor finance specialist was named as Northern England's second fastest growing tech company at a prestigious ceremony at Liverpool's Titanic Hotel.
Having increased turnover by 280% in 2015 and with web visits surpassing 6million pa mark, CarFinance 247 is on track to smash its growth targets for 2016. Commenting on Wednesday night's awards and the company's position in the marketplace, managing director Reg Rix said:
"We've had some outstanding results this year so we were hoping to achieve a high ranking, but to be named as the second fastest growing tech firm in the North was beyond our expectations. We're thrilled!"
"More and more people are seeing the benefits of what we have to offer. We have momentum now and we are firmly stamping our authority on the marketplace as the UK's number one supplier of online car finance."
The annual Northern Tech Awards, sponsored by technology investment bank GP Bullhound, identifies the fastest-growing tech companies in the North of England and Scotland, showcasing the impact of digital talent across the region and highlighting its growing international importance.
The final ranking for the top 50 fastest-growing northern tech firms was revealed, selected by a panel of high-profile judges, including David Rowan, Editor of Wired, Sir Terry Leahy, Sherry Coutu, and Alex Baldock, CEO of Shop Direct.
With the 50 fastest-growing companies increasing their combined revenues by 90% in 2015, the awards celebrated the continued expansion of the Northern digital economy. Joining Carfinance247 on the lists were IT solutions firm Ontrac, Skyscanner, Sky Betting and Gaming and Missguided.
Hugh Campbell, Managing Partner of GP Bullhound, commented: "The calibre of the companies profiled yesterday evening is astonishing. The Northern Tech Awards recognises the companies driving momentum in Northern tech, the firms with true ambition, scaling at speed. Never before have we had such a wealth of technology talent on our doorstep. It has not been an easy job adjudicating the entries, but our judging panel has succeeded in picking out the most promising northern digital businesses."
Herb Kim, Executive Chair of Tech North, commented: "The spectacular rate of growth that these companies have demonstrated in recent years is testament to the rapid acceleration of the North's digital economy. These are the leading lights, but with 80 per cent of all tech firms now based outside of London, they represent the wider opportunity for growth and innovation across the UK."