It's A Bullseye for Manchester Charity
Wednesday night saw world darts legends Michael Smith and Gary Anderson go head-to-head in a charity darts tournament at the our head office. With proceeds being donated to Forever Manchester, the event raised an impressive £6,432.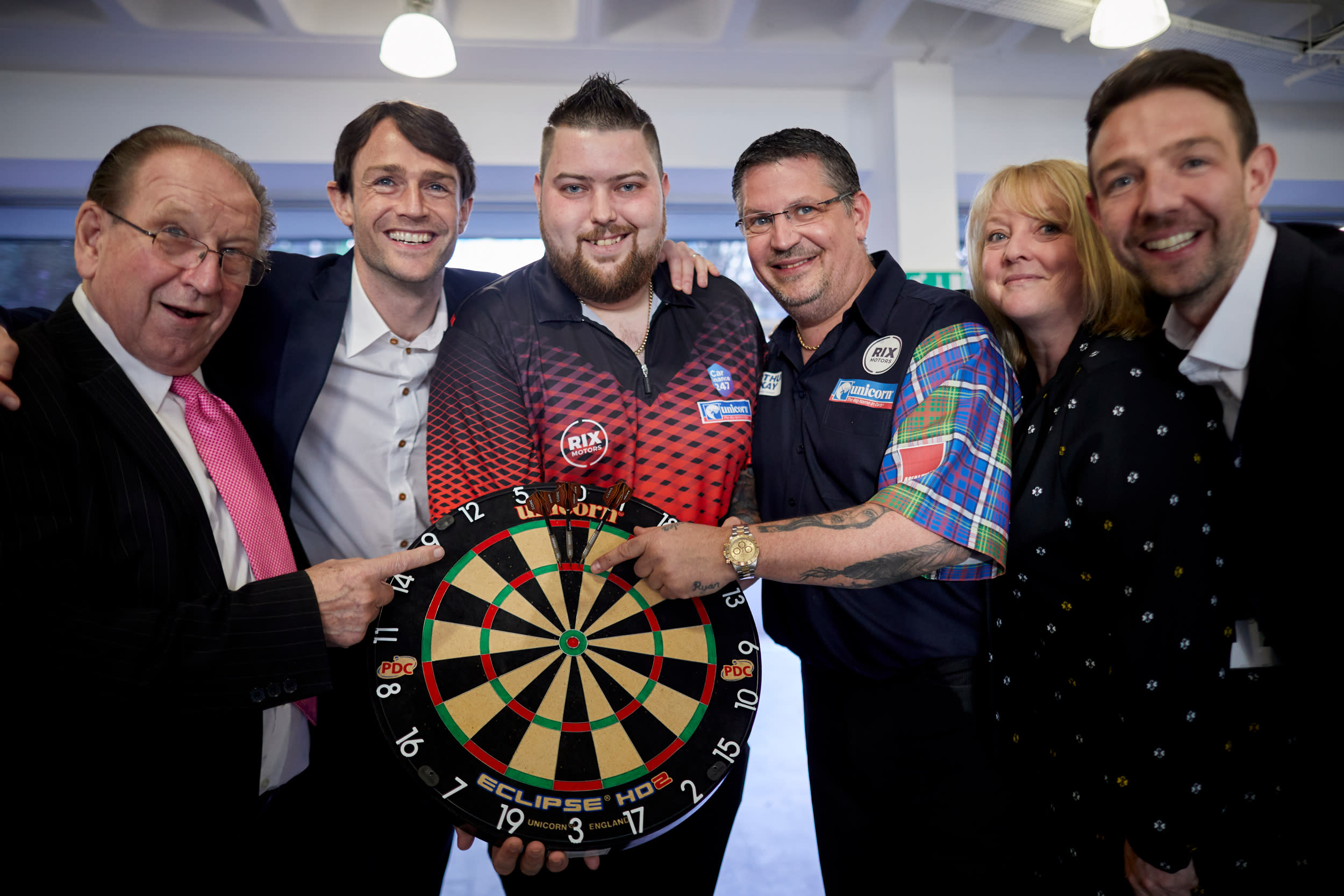 Staff and customers had oche-side seats for the action between these two titans of the dart playing world. In a tense game, Gary Anderson – the Flying Scotsman and two-time PDC World Champion - and Michael Smith, who was the 2013 PDC Under-21 World Champion, and has since won six titles on the PDC Pro Tour worked together to raise money for charity. They were joined by legendary sports commentator, John Gwynne, who was on hand to entertain the crowd throughout.
Players had to see how much they could raise in 15 minutes of dart throwing, with £50 for a bullseye and three triple 20s scoring £180. The total score for the evening will be donated by Manchester-based CarFinance 247 to a local charity called Forever Manchester.
Amy Smith, Marketing Manager, said: "What a night! So close! We've sponsored both Michael and Gary over recent years, and so to have them visit our office to entertain the team and customers was phenomenal. We took this as an opportunity to introduce ourselves to the other businesses in our office space too, so there was a great mix of people in attendance and spirits were high indeed. We're delighted to be able to show our support for the amazing work undertaken by Forever Manchester with this donation."
The contribution was received by Nick Massey FRSA DL chief executive of Forever Manchester who said: "Huge thanks to everyone at CarFinance 247, we had a great night and hope to be able to fund many more local projects with this fantastic donation. It's great when Manchester businesses back our charity - it all helps the city to become a better place for one and all."
CarFinance 247 operates nationwide and employs more than 450 people, based within its new offices in Universal Square, where it occupies three floors.
Amy continued: "Fundraising is an integral part of our team's social activities and everyone is encouraged to get involved to support both local and national charities.
"Last year CarFinance 247 gave more than £47,000 in charitable donations, a large proportion of which came from our Payroll Giving Programme that supports motor industry charity BEN. Reg and Louis were also lucky enough to be invited to ride alongside Sir Richard Branson during the Virgin STRIVE Challenge, they cycled more than 745km around Italy to raise money for the charity Big Change."
Forever Manchester raises money to fund and support community activity across Greater Manchester. It funds and supports a huge range of activities that help young people, older people and disabled people, as well as homelessness, sports, environmental, education, and cancer support projects, plus everything in between. It works with local communities to inspire and encourage projects that they want to see, to make their neighbourhoods happier, healthier and safer places to be.