Here comes the sun: Top 5 used four-seat convertibles and cabriolets
It's that time of year when radio stations have drivers singing along to favourites like Here Comes The Sun and Mr Blue Sky. And what better way could there be to welcome the fast-approaching summer sun than treating yourself to a car that lets in the elements, like a convertible or cabriolet?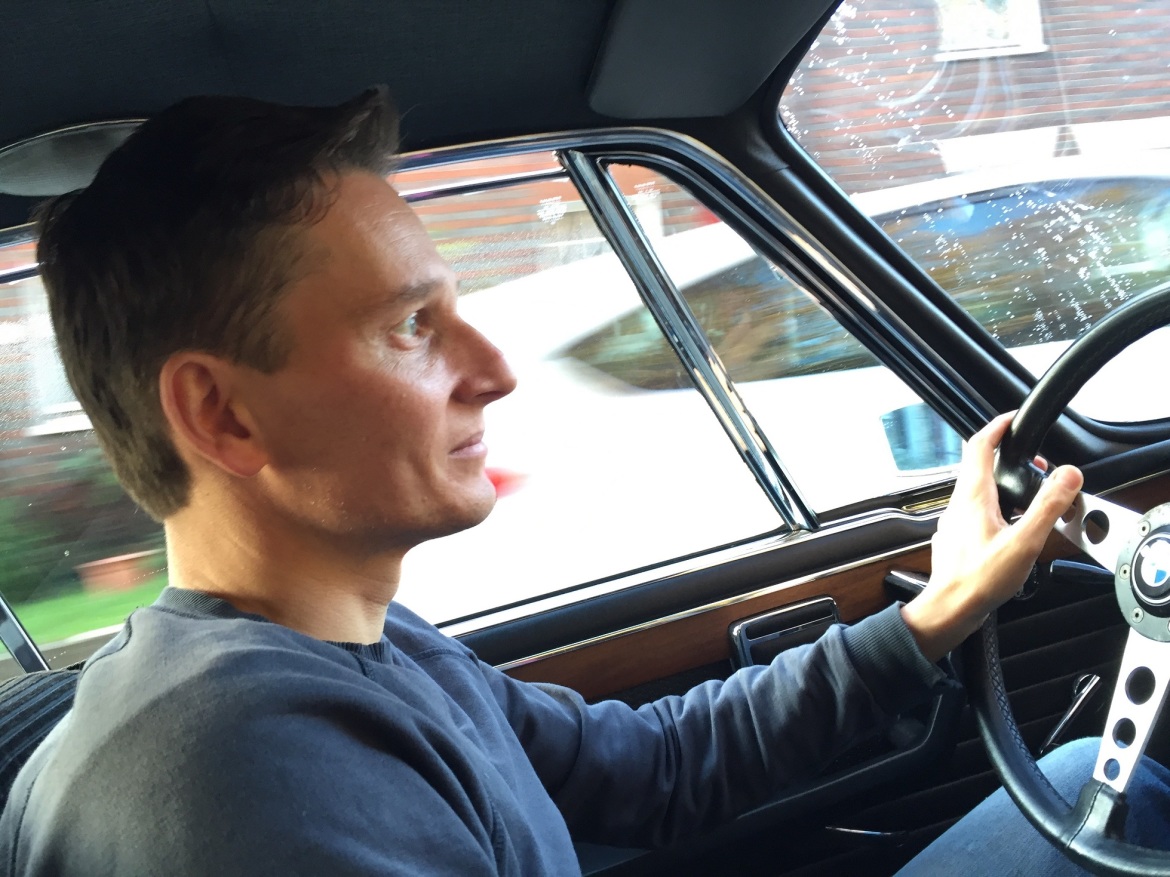 Often, such cars might be viewed as whimsical playthings that aren't all that practical when the good weather turns bad. But there is now such a wide choice of comfortable, four-seat convertibles and cabriolets that it's easy to pick a model that can be enjoyed all year round.
To ensure drivers keep a clear head when searching for a car that will drop its top, we've named five of the most versatile four-seat soft tops on the used car market.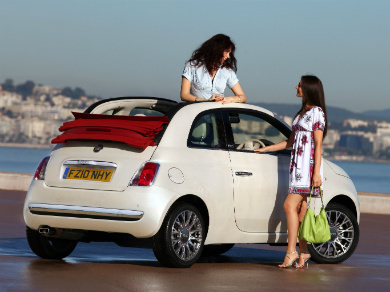 The cutest convertible in town: Fiat 500C
Used price range: £4,000 to £13,000
Our pick: 500C 1.4 Lounge
For the perfect car for looking chic in the city without spending silly money, try the Fiat 500C. Its petite proportions mean it's a doddle to park and the electric roof opens at the touch of a button. It will seat four girls, or boys, about town in relative comfort, but the boot won't hold much more than handbags and man bags. The 1.4-litre petrol engine is worth going for, as both the TwinAir, two-cylinder and 1.2-litre, four-cylinder engines that Fiat also offers don't have as much zip in everyday driving conditions. There are also some cool special editions on the used market, including a Diesel version and a Colour Therapy.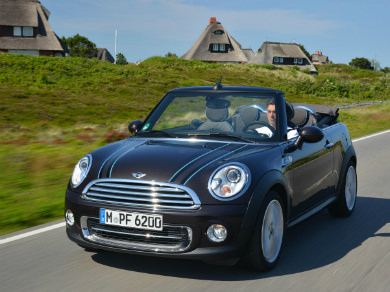 The most fun four-seat soft-top: Mini Convertible
Used price range: £2,000 to £26,000
Our pick: Cooper 1.6 Convertible
Few cars irrespective of cost can put as wide a smile on a driver's face as a Mini Convertible. The car drives with the enthusiasm of a puppy tugging at a leash passing a butcher's shop. And the roof opens completely – unlike the Fiat 500C, which has rails running from front to back - so passengers enjoy an unobstructed view of the world around them. Pick the 1.6-litre Cooper version and there's just the right blend of nippy performance and affordable running costs, while the roof drops electrically at the touch of a button, or you can open it just a little, much like a sunroof. Clever.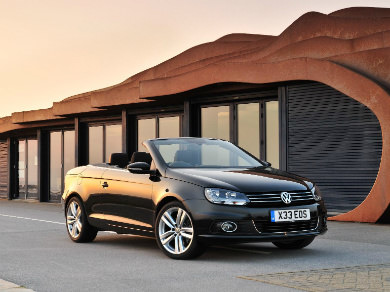 Is it a coupe? Is it a convertible? It's both: Volkswagen Eos
Used price range: £2,500 to £14,000
Our pick: Eos 2.0 TFSI
The Volkswagen Eos is the only car in this selection to boast a folding solid roof. It's a very clever trick, and means that when it's closed, the car feels snug and secure, rather like a coupe. There was also the option to have a glass sunroof within the folding roof, meaning drivers could just have a hint of fresh air on a crisp winter's day.
Lower it, however, and the Eos delivers the full open-air experience. It's also very relaxed to drive; just sit back and chill out, as this isn't trying to be a sporty car. Top up the tan and take in the view.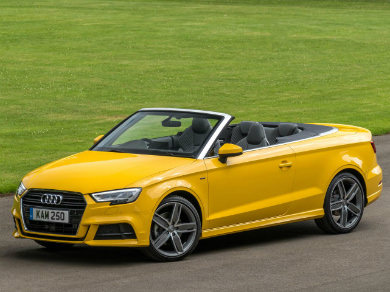 Class without the cost: Audi A3 Cabriolet
Used price range: £8,000 to £30,000
Our pick: 1.4 TFSI
Of the two generations of A3 Cabriolet, it's the more recent model, introduced in 2014, that will impress drivers most. It takes all the qualities of larger, more expensive four-seat soft-tops and manages to distil them down into a smaller, more affordable package.
There are four proper seats, a large boot and a wonderfully well-insulated fabric roof that's impressively quiet when closed. But with it open, and a wind deflector in place, you can drive topless on the motorway and still have a civilized conversation. The 1.4-litre TFSI engine strikes a good balance between fuel economy and effortless performance, and overall, this feels like a seriously classy car considering its price.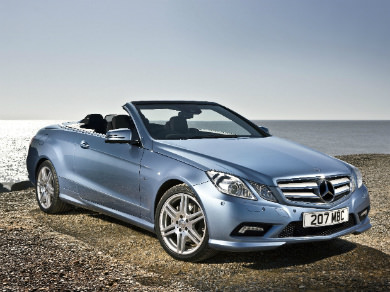 Gadgets galore: Mercedes E-Class Convertible
Price range: £12,000 to £35,000
Our pick: E220 CDI
It may well boast spacious seating for four and a good size boot, but it's the inclusion of some exceedingly clever features that marks out the E-Class from other convertible cars. For starters, when you open the roof, a mesh-like wind deflector rises out of the top of the windscreen frame. Why? Because it prevents a mini tornado from blowing around the cabin, so you can lower the roof in confidence even after leaving the hairdressers.
Other gadgets to look out for include the optional "Airscarf" heating ducts, which are at the base of each front seat's headrest and blast warm air onto necks when desired. It also happens to be delightfully smooth to drive, and the popular 2.1-litre, four-cylinder diesel version, known as the E220 CDI, is in plentiful supply and can return up to 57mpg, making it surprisingly easy on the wallet.
Quick tips for convertible buyers
Drivers tempted by a topless car should carry out some simple checks that relate specifically to convertible or cabriolet cars. First, during any test drive, ask the dealer to demonstrate how the roof mechanism operates. Some will open and close while driving, others can only be operated when the car is stationary. Check that the roof mechanism opens and closes smoothly, and drive the car with it both closed and open. When shut, it should be well sealed with no whistling from the wind. If a wind deflector is supplied, ask the dealer to show you how it can be fitted, and also give it a try with the roof open.
---
---