CarFinance 247 makes Sunday Times Virgin Fast Track 100 list
Market leading online car finance specialist CarFinance 247 ranked number six on list of UK's fastest growing private businesses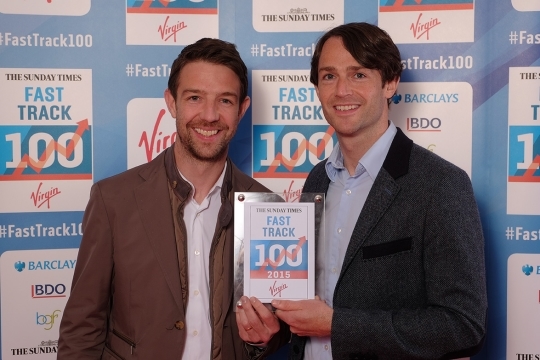 Hot on the heals of seven other prestigious business awards this year, including the 2015 Deloitte UK Technology Fast 50 (a league table of the 50 fastest-growing technology companies in the UK), CarFinance 247 has been ranked at number six in the 2015 Sunday Times Virgin Fast Track 100 honours list.
The list ranks Britain's 100 private companies with the fastest growing sales over three years.
The brains behind the business, sibling entrepreneurs Reg and Louis Rix, have taken the used car financing market by storm, achieving a staggering 148 % compounded annual sales growth over the last three years.
The market-leading firm is on track to fund more than £180m of car finance to consumers this financial year and employs more than 200 staff at its headquarters in Manchester.
Reg Rix, managing director of CarFinance 247, spoke about the company's achievement:
"This is the cherry on the top of a phenomenal year and we are honoured at the news that we have made it onto the most prestigious business league table in the UK. This is recognition for everyone who works in the business and their hard work over the last few years.
"We recognised that the market was changing, with the advance in technology driving more and more consumers online and away from more traditional means of car financing.
"We have capitalised on this shift in consumer behaviour, putting in place a business model that centres on smart technology and great customer service, and that has enabled us to take a significant lead in the market. With the continuation in the upward trend for online car finance we look forward to another buoyant year in 2016."
Those who make it onto the 19th annual Fast Track 100 list will join Sir Richard Branson at his Oxfordshire home for an invitation-only awards dinner during the summer.
A memorable year for the company that has also been recognised as one of the Sunday Times Top 100 Companies to work for and short listed for a string of other business accolades including Llyods Bank National Business Awards, The Drum DADI Awards, North West Business Insider's 42 Under 42, and Digital Team of the Year at the Digital Entrepreneur awards, among others.